Is it time to learn how to apply your makeup?
Now is your chance to learn straight from a professional makeup artist.
What to expect. My intention when I run a workshop is to break down the art of makeup into simple and effective techniques so you can feel confident applying as much or as little as you wish. Whatever your level, or age, you can enjoy makeup without having it zap your confidence. Plus I intend to arm you with the knowledge to buy makeup that works. I've always been an open book and am enthusiastic about giving honest advice. I've never held back on telling the truth and cutting through the marketing hype.  No buzz words here. No repeating ineffective click-bait tips that just don't work for the everyday woman; and no selling one specific brand. Just honest practical advice straight from a currently working professional makeup artist (that's me!) on how to apply your makeup.
My workshops are hands-on and full of personalised advice that you can't get online. Step-up your makeup game. Put down the cotton tips and wet wipes and pick-up the makeup-up brushes. Say goodbye to smudged eye liner, patchy foundation and panda eyes. Time to learn how to bring out your features without getting in a mess!
All our workshops build on each other so you can choose to do one or many.
Classic Beauty - Professional Makeup Techniques For Everyday Women | Makeup Workshop
Join in on a morning of pampering and fun as you learn how to look and feel your best.
What we'll cover
In our most popular course, Classic Beauty, we go back to basics and cover the classics. Learn how to apply a natural look well, how to overcome your unique frustrations, and how to make your makeup last all day and night.
Prep and prime (this trick will make everything so much easier)
Blended (and simple!) eye definition techniques – open up your eyes 😉
Industry secrets techniques to straight eyeliner
Choosing the right foundation for your skin
Hints and tricks for tricky skin, large pores, fine lines and overall creating that youthfulness glow.
Price 
$95 per person  
(10% OFF on early bird special)
I price the workshops fairly so that I don't need to be affiliated with any makeup brand. That means you get honest unbiased advice.
What to bring 
We'll provide everything you need to work with from the brushes to the product. We provide it all so that you have the chance to experience all my favorite products.
Where
We have 2 dates scheduled for 2018
Saturday Jan 20th 2018 | 11.00am – 1.30pm | Kawana Island FULL
Saturday June 2nd 2018 | 11.00am – 1.30pm | Location TBC FILLING NOW
Book online now – an invoice with online payment options will be sent to your email. Or you can phone and speak with me today.
Gorgeous Eyes Makeup Workshop
Makeup Maestro! Is it time to learn to do your eye make-up like a makeup artist? With this specialised class you'll learn to do smokey eyes and perfect liquid flicks. No more wobly liquid eyeliner or wiping off failed eye shadow attempts.
What we'll cover
This workshop builds on the Classic Beauty class. We'll focus on perfecting eye make-up and doing a more evening look – with secrets for blending and defining eye make-up looks. And there'll be time to ask personal questions and get tips that are specific to your eye shape.
Eye primers (imagine no more eye crease in your eyeshadow)
Eye makeup for your eye shape
The secrets to blending your eyeshadow like the pros
Fabulous flicks
Eye contouring
Brow shape techniques
Getting smokey right!
What to bring 
We'll provide everything you need for the workshop, from the brushes to the products.
What you get
2 hour focussed attention on eye makeup
Small group lessons to allow time for personalised advice
Where and when 
Coming soon! We aim to host workshops every 3 months, so we'll make sure you won't be waiting too long. If want to be the first to know when a date is set, you can go on the waiting list here:
About your tutor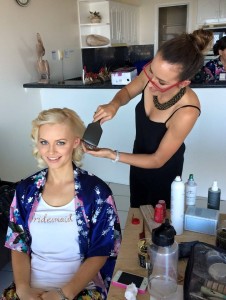 Vanessa holds a Diploma of Cinemagraphic Makeup Artistry and has over 12 years active industry experience. Trained under Oscar winning Makeup artist Peter Frampton Vanessa has the highest quality technical knowledge which she uses to cut through the beauty industry jargon and bust all those beauty myths that so often lead us astray.

Vanessa is also a passionate trainer. As a qualified trainer, Vanessa has the skills and experience to design comprehensive workshops that are simple and easy to follow making the lessons both highly informative and lots of fun.